Style it up
Todays featured item is the sock boot. They may not be everyones taste, however they are a very versatile item. These Una Healy sock boots are this seasons current stock, available @shoeshop.ie. The fabric foot and sock make them extremely comfortable, I love the pointed toe and I adore high heels, despite the fact I'm almost 5'9".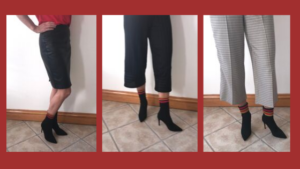 In the first picture Ive donned the sock boots with a black pencil PU skirt. I feel its important that the sock boot is fitted to the shin, without being restrictively tight.
In the second picture Ive chosen to wear the boots with a wide bottomed crop black trousers. The trousers has a sheen which works perfectly with the matt fabric of the sock boot.
In the third picture Ive opted for a check trousers with a mixture of the beige, black, dark brown and cream. The colours on the top of the sock boot compliment these colours. I did however turn the sock down a fold as I believe its more stylish to have a little gap between the top of the boot and the finished length of the skirt or trousers.
Of course one could always wear the sock boot hidden underneath a long flowing dress/skirt or wide full length trousers. The options are endless.