Welcome to 'Style it up', my new slots on different ways to style particular garments. These are just couple of the ways the items can be styled, of course many of you will have your own ways too. My aim is to give you some ideas and get you started on your path to creativity. Far too many items remain in our wardrobes under utilised and taking up valuable space. The most common complaint I hear is "I have nothing to wear, yet the wardrobe is full"
Todays featured garment is the black straight skirt. Holly is wearing a 'pleather' (PVC) knee length from Carraig Donns' new collection. In the first picture we have teamed it with a smart top and court shoes. This is an ideal look for office or any occasion where a 'smart' look is required. It will suit the hourglass, the rectangle, the slender triangle and the slender inverted. Jewellery can be added although not required due to the patterned top.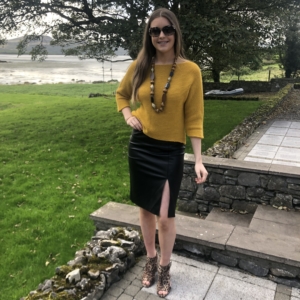 The second look is more casual, here we have teamed it with a mustard jumper/sweater, also carraig Donn, added wooden effect beads and peep toe animal print shoes with a block heel. Ideal for a day about town or meeting up with friends for a coffee.
The length of this skirt is suitable for day time or it could be worn with a dressy top for an evening out with sandals or higher heels. Do you have a similar item in your wardrobe that is not being worn?